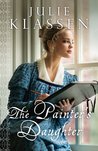 The Painter's Daughter
by
Julie Klassen
My rating:
5 of 5 stars
I don't know if I can say enough good about this book to let you know how much I thoroughly enjoyed it!!
Julie Klassen
has written such a solid book in
The Painter's Daughter
!! This book held my attention throughout and is my new most recent favorite book!! I love how Julie pushes the edginess just a little in her characters but never to a point that a book is inappropriate for younger ages. She writes real, raw, honesty into her characters and the ones in this book are no exception!
Sophie finds herself at a moment of weakness and not really sure how to handle her situation when Wesley just up and leaves. She is a very private person, even more so with her painting. How could Wesley just up and leave for Italy without even saying goodbye? Then, Wesley's brother Stephen comes to town, looking for his brother only to find him out gallivanting around the world again. He meets Sophie and learns that Wesley has just up and left her. Stephen makes Sophie no promises other than to take care of her if she will be HIS wife. Sophie accepts and moves to Stephen's family home. When Stephen is called back into duty and his brother Wesley shows up to find "his girl" has married his brother, whatever will happen?
There are so many themes in this book that brought home some very important points. I think my favorite theme is that of forgiveness. That seems to be my life theme this year and I'm gravitating towards books that focus on this theme. Sophie needs the forgiveness of many of her friends and family members, while others are also in need of her forgiveness. The relationship that Sophie has with Stephen is so intriguing to me as well. I would say that theme would be one of endurance. So many times, people give up so easily but Sophie and Stephen weather life's storms with endurance.
Thank you, Julie, for another fabulous book! I look forward to reading many, many more!
View all my reviews